Book the Best Value Bus & Coach Hire in Wellington
The lowest rates in the industry – guaranteed*
Book the Best Value Bus & Coach Hire in
Wellington
We can provide Mini Buses (7-24 seats)
and Coaches and Buses (24-69 seats)
Anywhere in Wellington
Our Approach is Simple:
Lowest Price Guarantee*
Easy 3 Click Booking Process
Best Selection of Vehicles
Accredited Business
Why Choose BusHire.co.nz ?
We have a wide range of 8-48 seat Coaches & Minibuses available for hire or charter in Wellington.
All of our vehicles offer the highest standards of comfort and are fully maintained on a regular basis.
Professional & Friendly Drivers to make your journey a pleasure from beginning to end.
Competitive prices & Outstanding Customer Service make us the leading provider of bus hire in Wellington
Why Choose our company for bus charter in Wellington?
Our company takes great pride in the fact that we offer a service that no other bus charter company can match. With a fleet of vehicles are some of the best on the New Zealand roads and prices that cannot be beaten we bring you Wellington's best value bus hire.
If you are looking to arrange your travel with a company that cares about its customers and provides a service that helps make your journey part of the trip, then Bus Charter is the company you have been looking for.
Wellington

International Airport Transfers
We are able to arrange transfers to Wellington International Airport from any location for groups of any size and at any time of day or night.
Read our complete Wellington International Airport Guide for more information about airport facilities, click here to read instructions on how to find your driver or call our team now.
Where ever you choose to go in

Wellington

,
BusHire.co.nz has the

right vehicle

for you!
BusHire.co.nz is a leading provider of bus and coach hire in Wellington and throughout New Zealand.
Please contact us to see how much we could save you on your group transport.
Things to do when you are visiting Wellington
Please read on for information regarding Wellington and some of the things you can see whilst here.
Culturally rich and the coolest little capital, Wellington is opportune for families and social groups seeking to explore a relaxed but yet buzzing town with stunning scenery and activities. From a relaxed winery tour to transfers to thrilling theme and leisure parks, BusHire.co.nz offers Wellington bus Hire and Mini Bus Charter.
Located near famous touring destinations, consider having your group meet in a central location like Wellington Railway Station before starting your winery or sightseeing tour. Your passengers can relax knowing the driver will safely deliver them to their destination.
Other than tours, your group may require transfers to various events held annually in Wellington such as the New Zealand Festival. The event is celebrated nationwide and held at various locations around town,with various cuisines and a heightened social atmosphere.
Travelling with BusHire.co.nz ensures that your passengers arrive safely and to schedule in a relaxed atmosphere. We offer Coach Hire and Bus Hire in Wellington for all tour groups.
Please contact us to see how much we could save you on your group transport.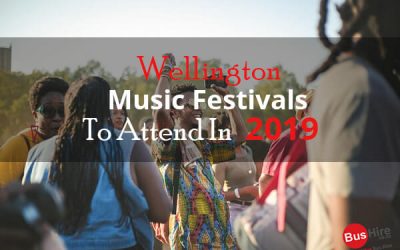 There is a wide array of music festivals available in the Wellington area. And though there are still many from which to choose, some of the best festivals have already taken place. Don't worry though, just mark your calendars for next...
read more